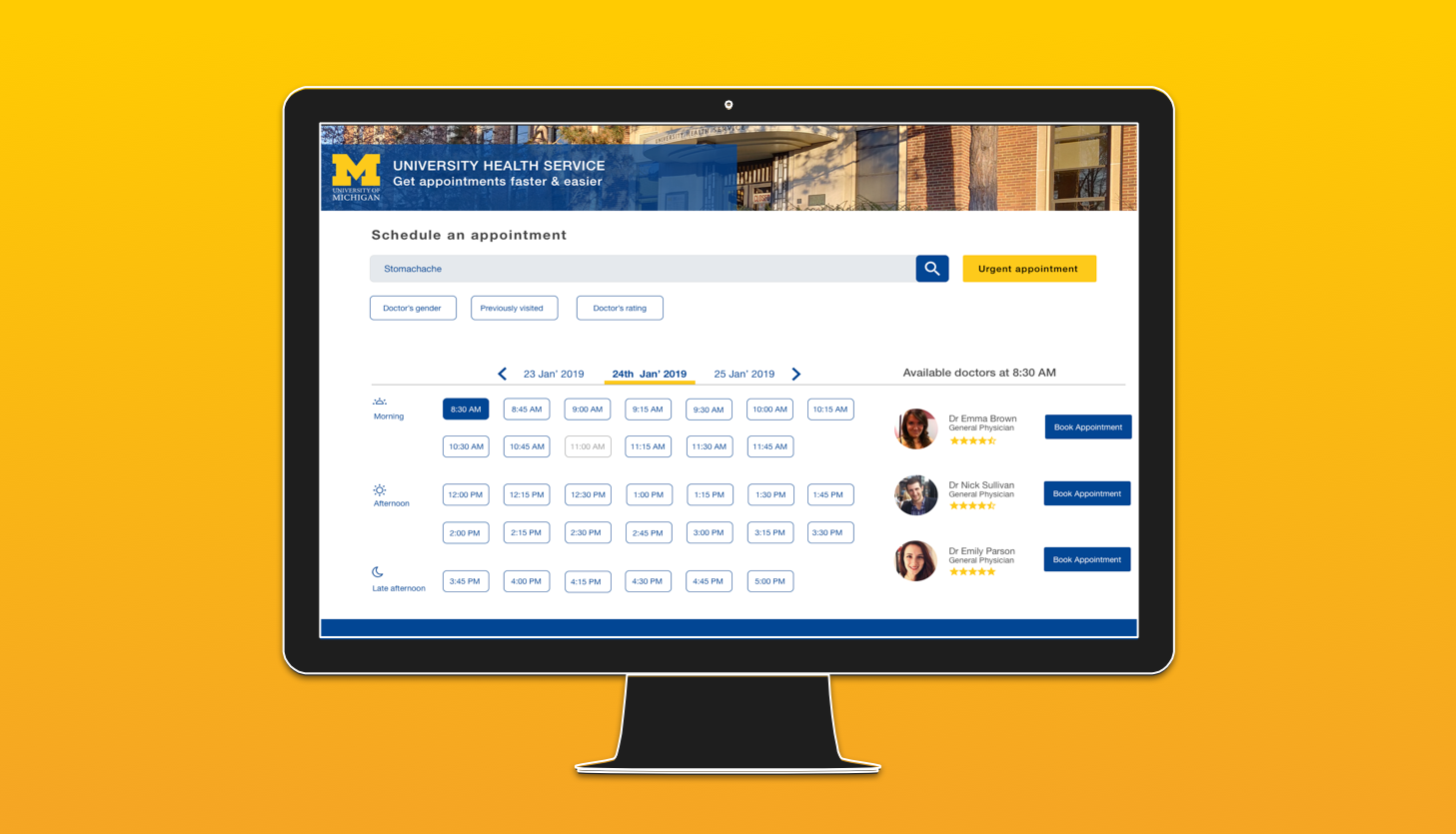 Role
UX Researcher & Designer
Team
Neha Dhawan & Rugved Arte
Duration
12 weeks
Timeline
October, 2018 to December, 2018
Methods
User Interviews, Comparative Analysis, Literature Review, Surveys, Online Reviews, Affinity Mapping, Usability Testing, Empathy Maps, QOC, Storyboarding, Sketching, Wireframes, High Fidelity Prototypes
Problem Statement
Students at the University of Michigan find it difficult to access healthcare. Some students are not even aware of University Health Services (UHS)
Final Design Sample Webpages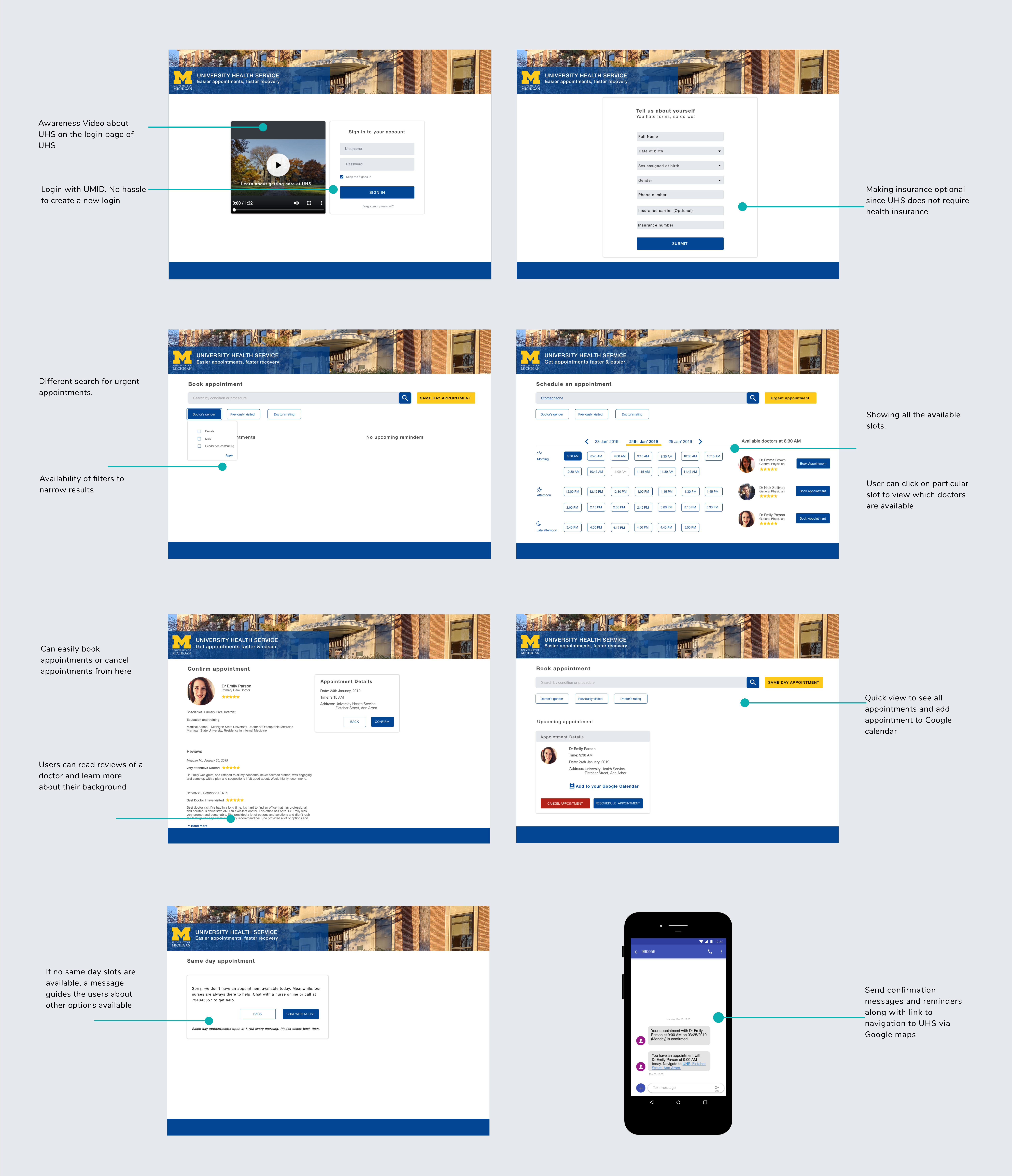 Overview
Away from home, falling sick could be a particularly stressful experience for students. Our project aims to make it easier for students to get healthcare at school.
Target Audience
All enrolled students at the University of Michigan.
Key Research Question
How do students get healthcare at UM and what are the problems that they face?
Finding problems in healthcare through interviews
We conducted 7 user and 3 stakeholder interviews to understand user needs.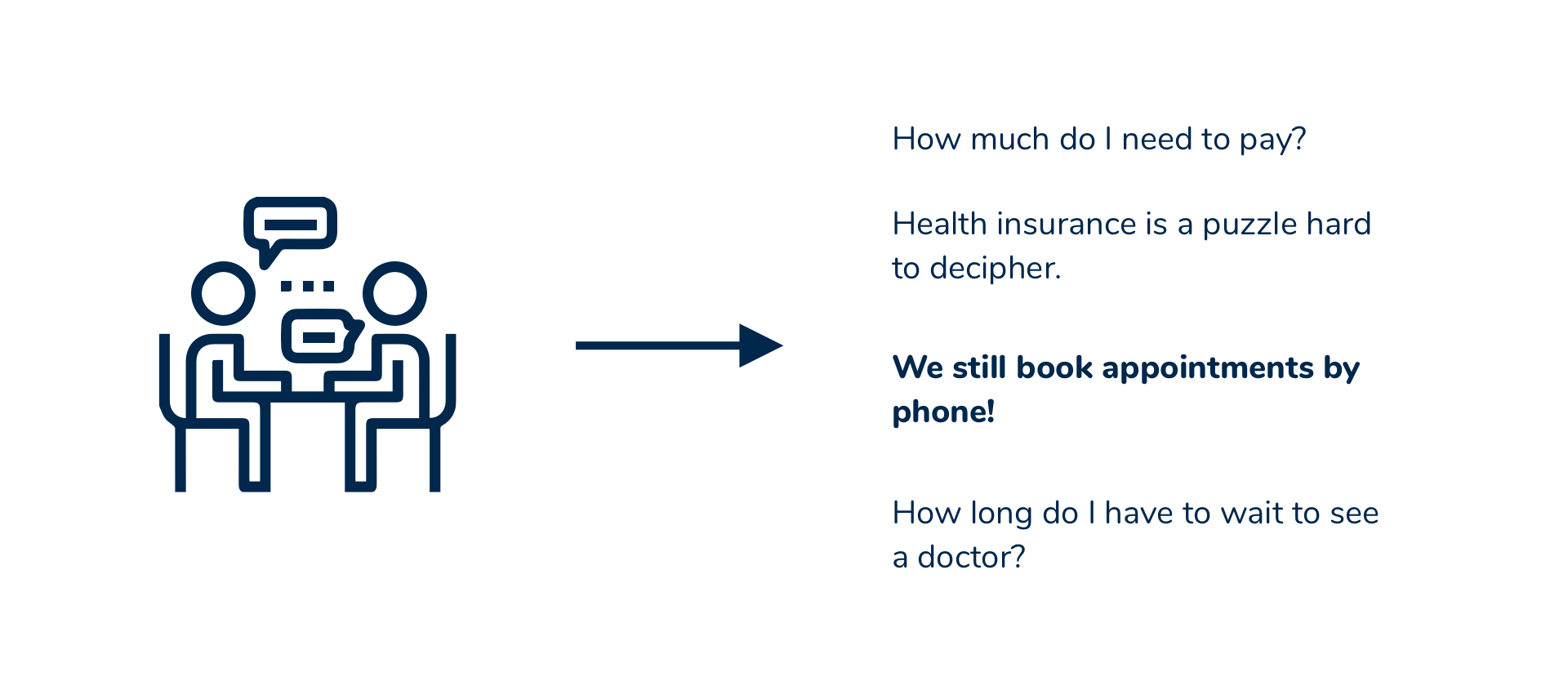 Key Research Question
Are students aware of health care options at UHS and how is their experience with scheduling appointments?
Findings from interviews


Findings from survey
38% respondents thought that they needed an insurance plan to get care at UHS
62% respondents said that they currently call to book appointments.
80% respondents said that they wouldn't call if appointments could be booked online.
Insights from Literature Review
Younger tech savvy participants are inclined to use website portals to view health reports and schedule appointments
Busy phone lines discourage people to call to schedule appointments
Online scheduling reduces the number of no-shows and real-time booking creates a more transparent system
Findings from Online Reviews
We read reviews of UHS online on Yelp (23 reviews) and Google reviews (47 reviews). The average rating of UHS on Yelp was 2.3 and on Google 2.8 on a 5 point scale. Many users mentioned that scheduling appointments is a pain through calls and there should be a better solution in place.

Competitive Analysis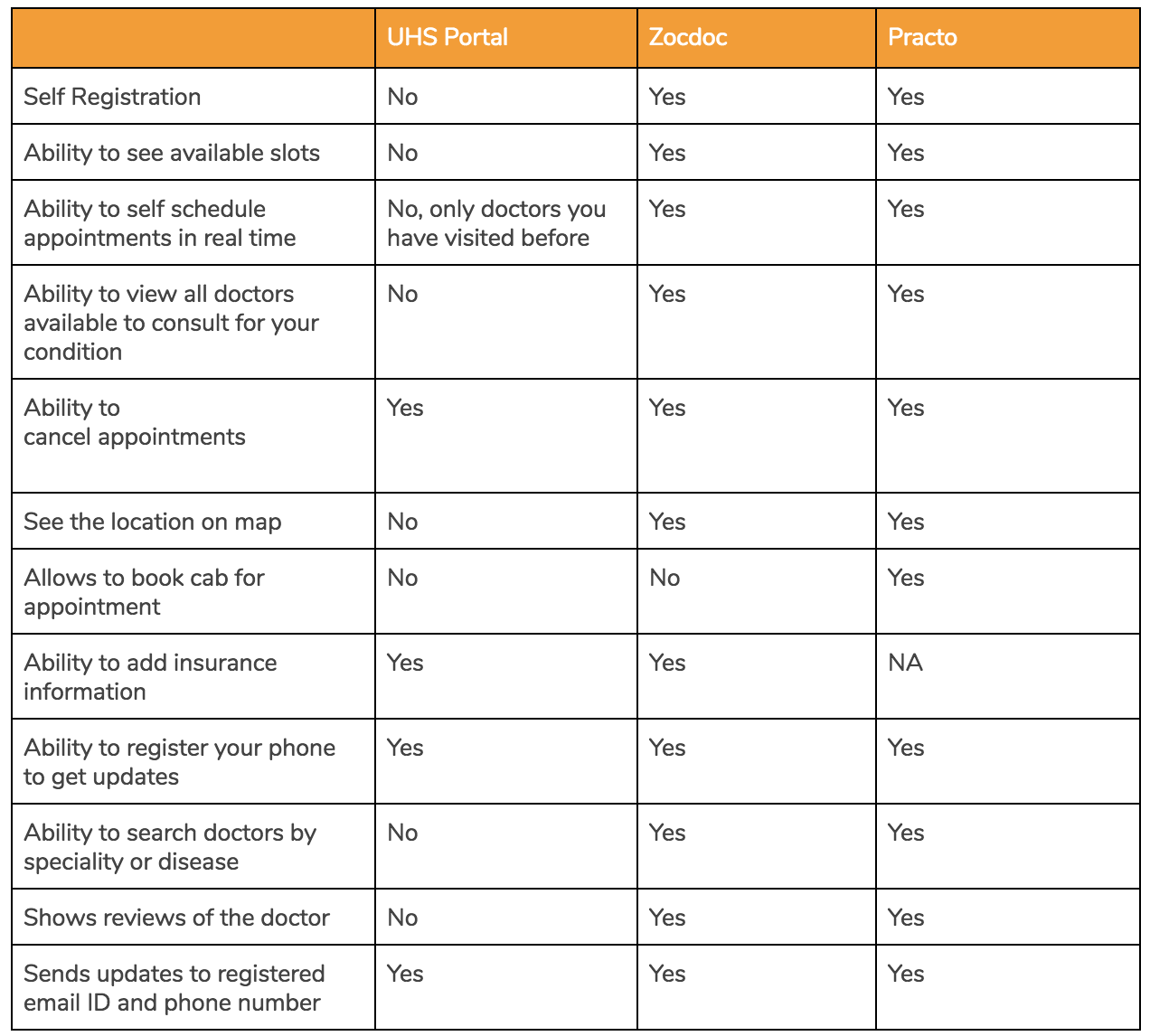 Empathy Maps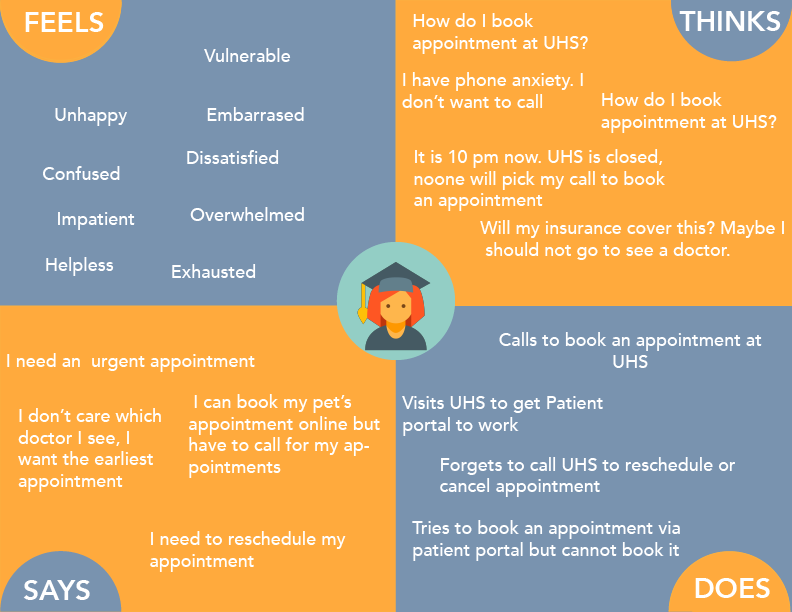 Solution
A short awareness video about UHS & a website to schedule appointmemts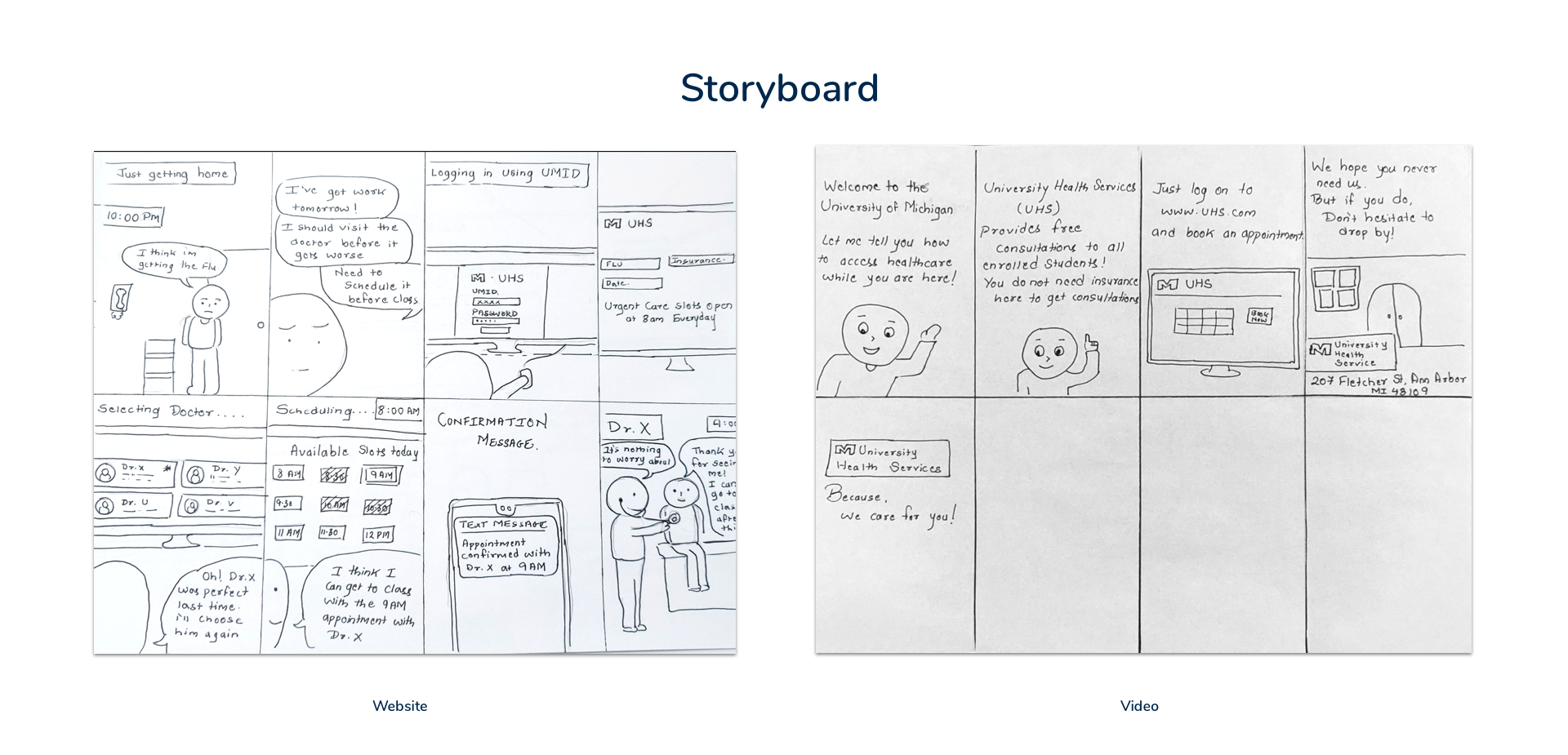 Sketches
We created sketched for two different versions of our solution. Then we tested our sketches with 5 users to get feedback.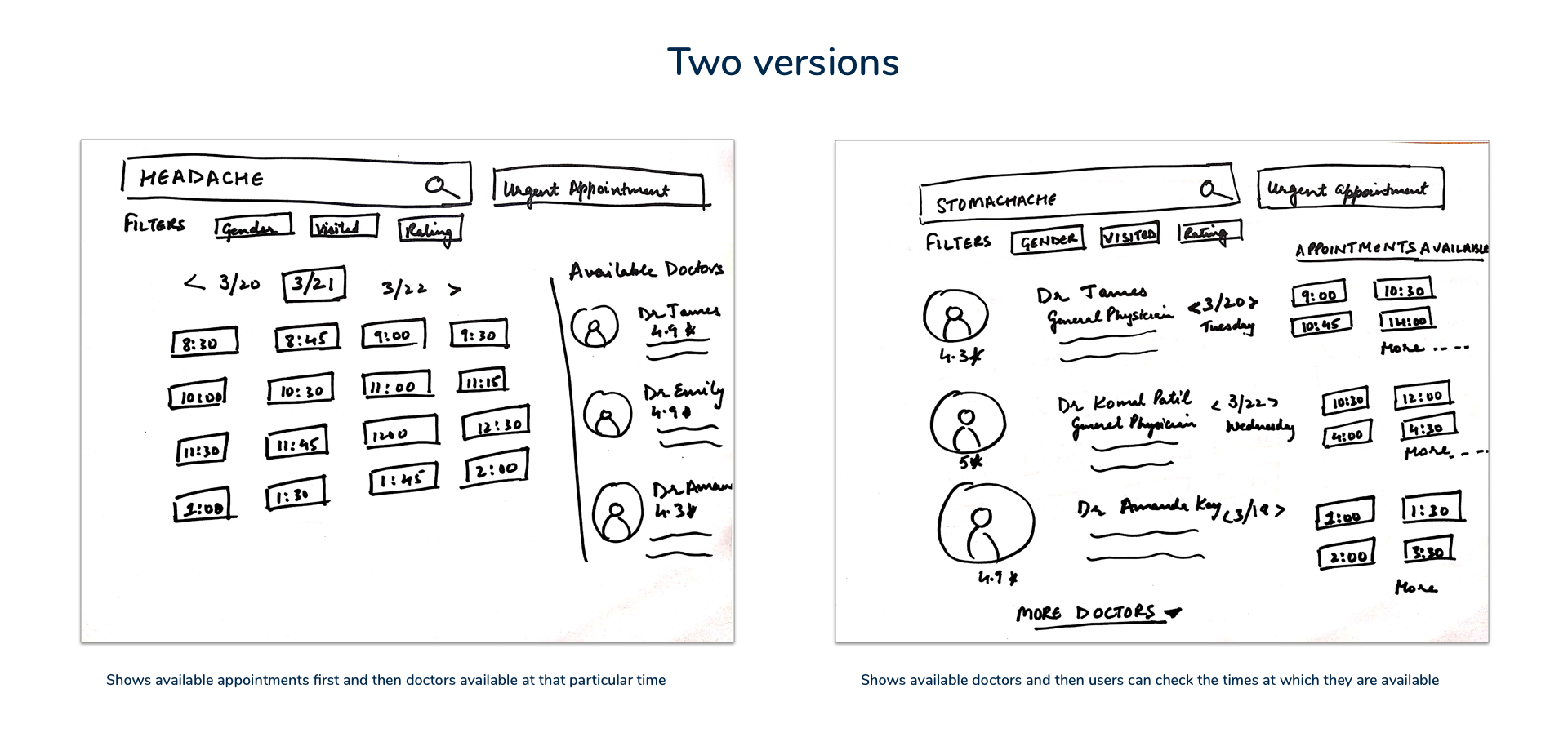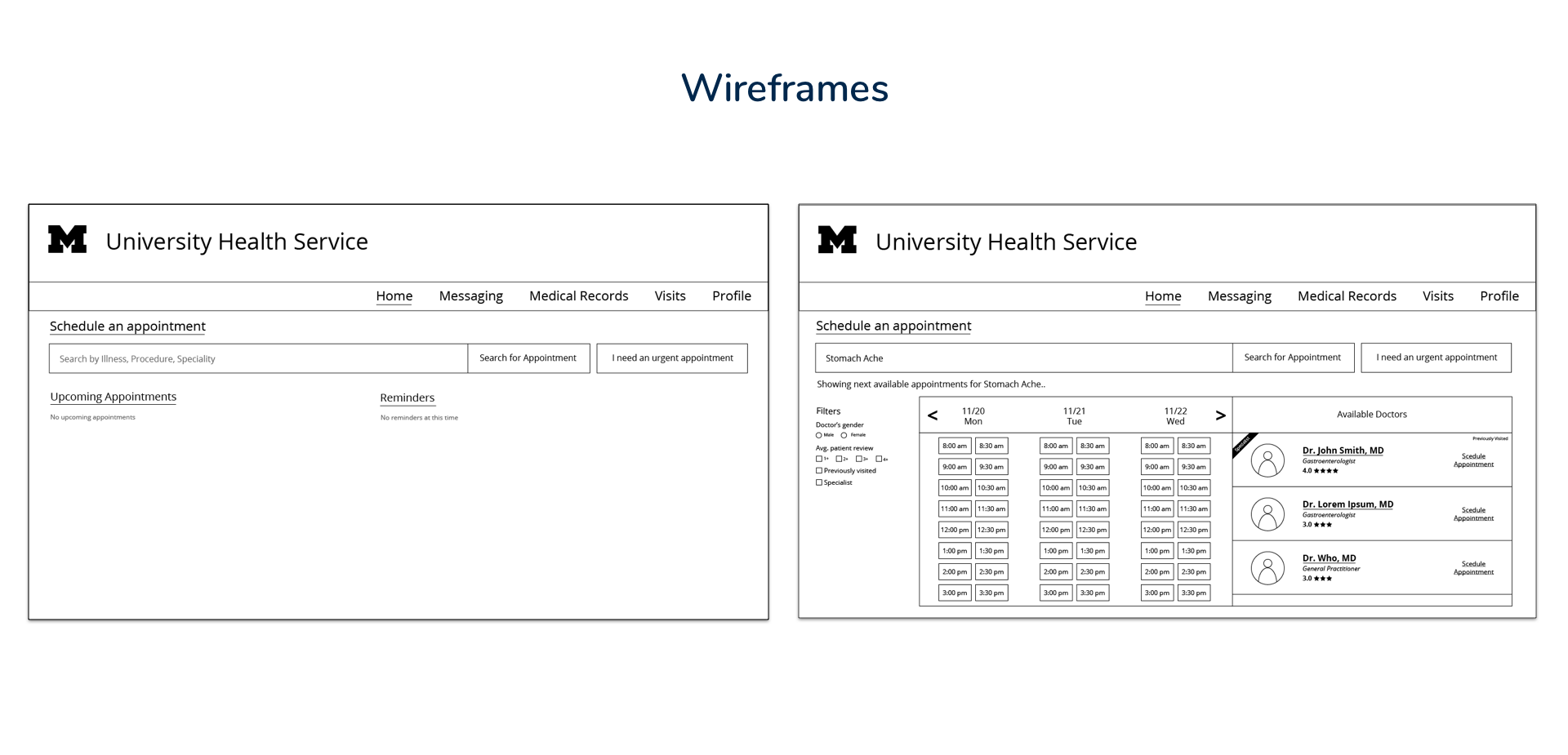 Awareness Video
We created the awareness video for UHS which will be played at the orientation. The video is also embedded on the website.
Usability Test
To evaluate our interface of our UHS portal, we conducted 5 usability tests. The overall feedback for booking appointments was positive but our reminder feature for urgent appointments needs some improvement.
Three participants were females and 2 were males. All tests were conducted in person and took around 20 minutes on average. We had a pre-test and post-test questionnaire. All the users were asked to perform 2 tasks. The first task had 6 subtasks and the 2nd task had 4 subtasks.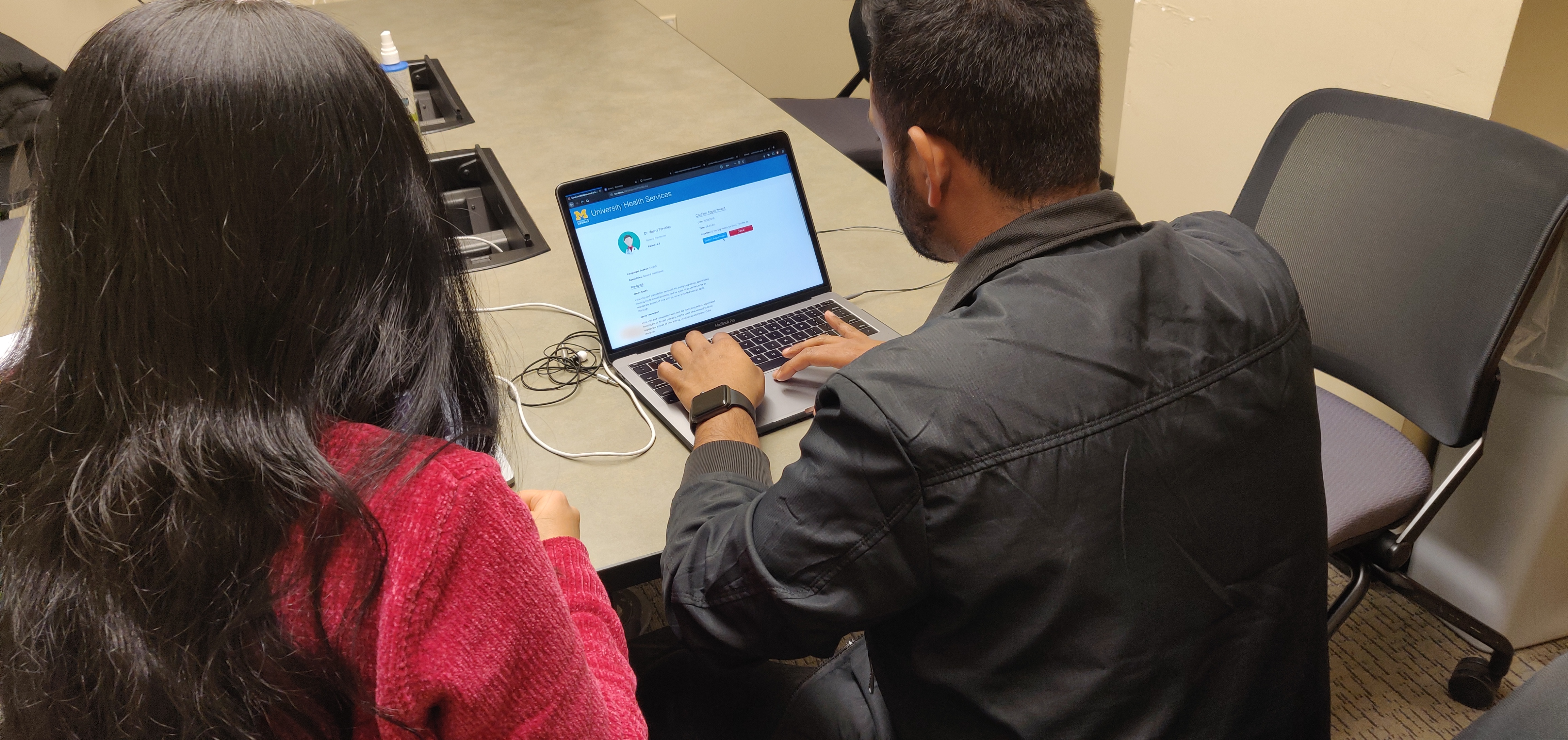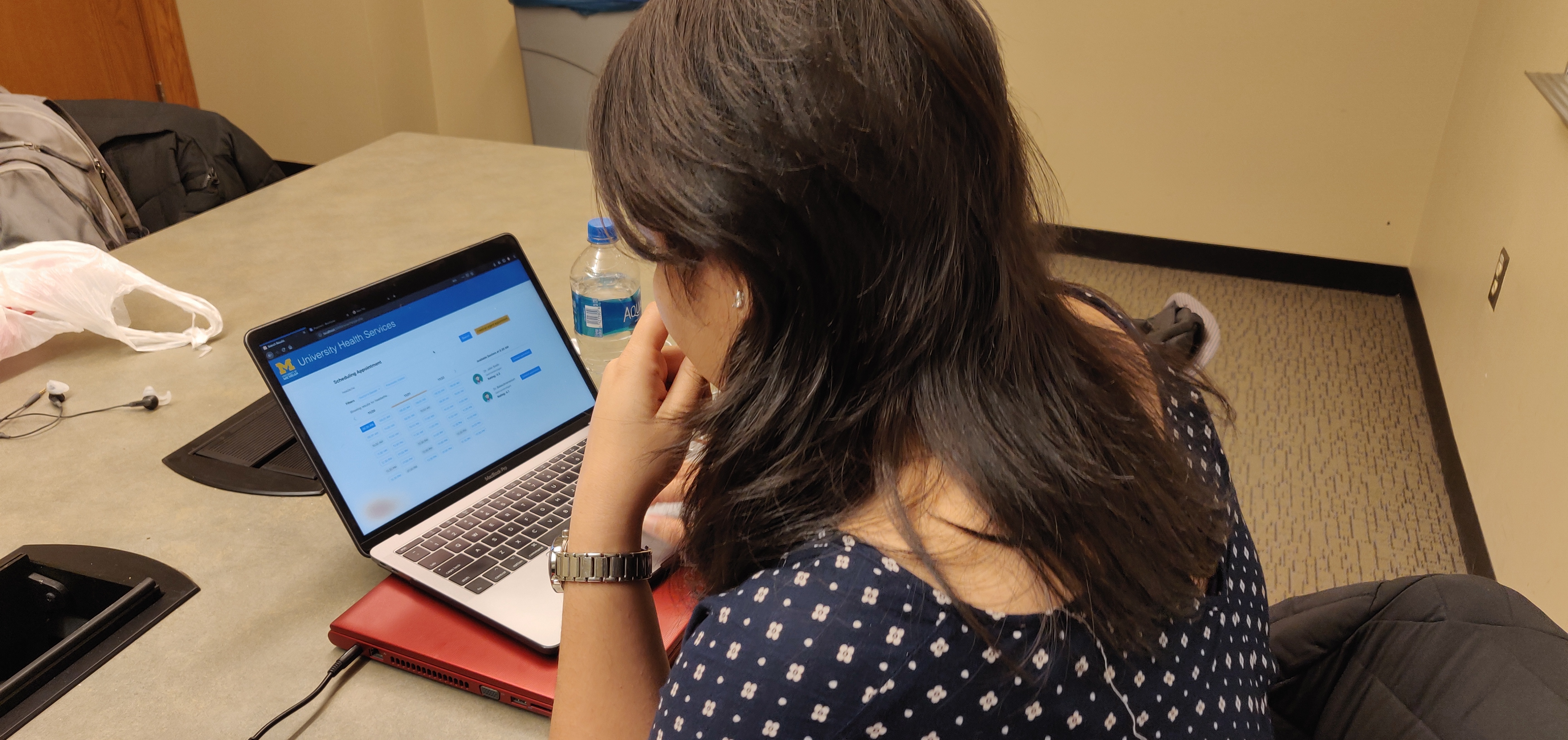 Things That Worked Well
Users intuitively logged in using their University of Michigan password.
Users liked that insurance information was optional.
All users liked the booking page and found it easy to interact with.
Users liked the option to have an urgent appointment in case they needed to book those.
Users also liked that they could see all the slots in one place.
Scope For Improvement
Users were confused about the reminders and most users were not familiar with the urgent appointments. Overall, the feature was not considered helpful by the users
Copyright © Neha Dhawan 2020